Web pages
The report shows traffic and bounce rates for pages of a website. Connect your Google Analytics to Labrika tools to get the information.
Contents of the report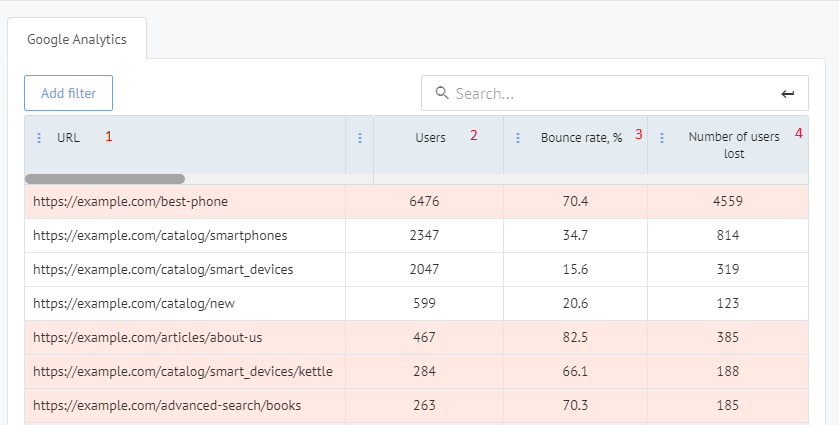 URL of the page.
The number of users who visited the page.
The bounce rate of this page in this search engine. It is the percentage of bounces relative to the total number of visits to the page. A bounce is the immediate departure of a visitor without going to any other pages of the website.
The number of lost users (who stopped interacting with the site after visiting this particular page).
Pages where indicators deviate from the norm are highlighted in red.
Using the report
The report allows you to find pages with a high bounce rate. A high bounce rate degrades the site's behavioral characteristics and leads to a decrease in its position in search results. It is important to establish the reasons for the rapid departure of visitors from the page to fix the situation.
There are two main reasons for bounces:
Low quality of pages (content, usability, loading speed, etc.)
Directing non-targeted traffic to these pages (for example, when the site features in search results for key phrases that are not related to your business specialization).
After determining the reasons for the bounces, fix the problems or remove such pages. This will improve the behavioral performance of the site and positively affect the rank of the entire site.
High bounce rate for certain pages
If certain pages are seeing high bounce rates, then this may indicate that the content is not fulfilling the user intent. This can be for several reasons such as:
Low-quality content
Unrelated content
Slow page loading speed
Bad usability
Non-targeted traffic - e.g., the page may not fulfill the intent behind the keyword it is ranking for.
To fix this issue you will first need to work out what the issue is. You can then address the problem. For example, if the keywords are incorrect, you can look at our page optimization and keyword tables to work out the best keywords for your page.