Speed and usability
Site loading speed is now one of the key ranking factors for Google, and this trend is only set to continue over the coming years. Search engines prefer resources with a quicker page loading speed because they offer a better user experience and can be indexed quicker. If pages take too long to load, users will often bounce back from the site, resulting in lost traffic, and a loss of position in the SERP. To avoid such problems, it is necessary to check and optimize your website's speed.
Content of the "Speed and Usability" report: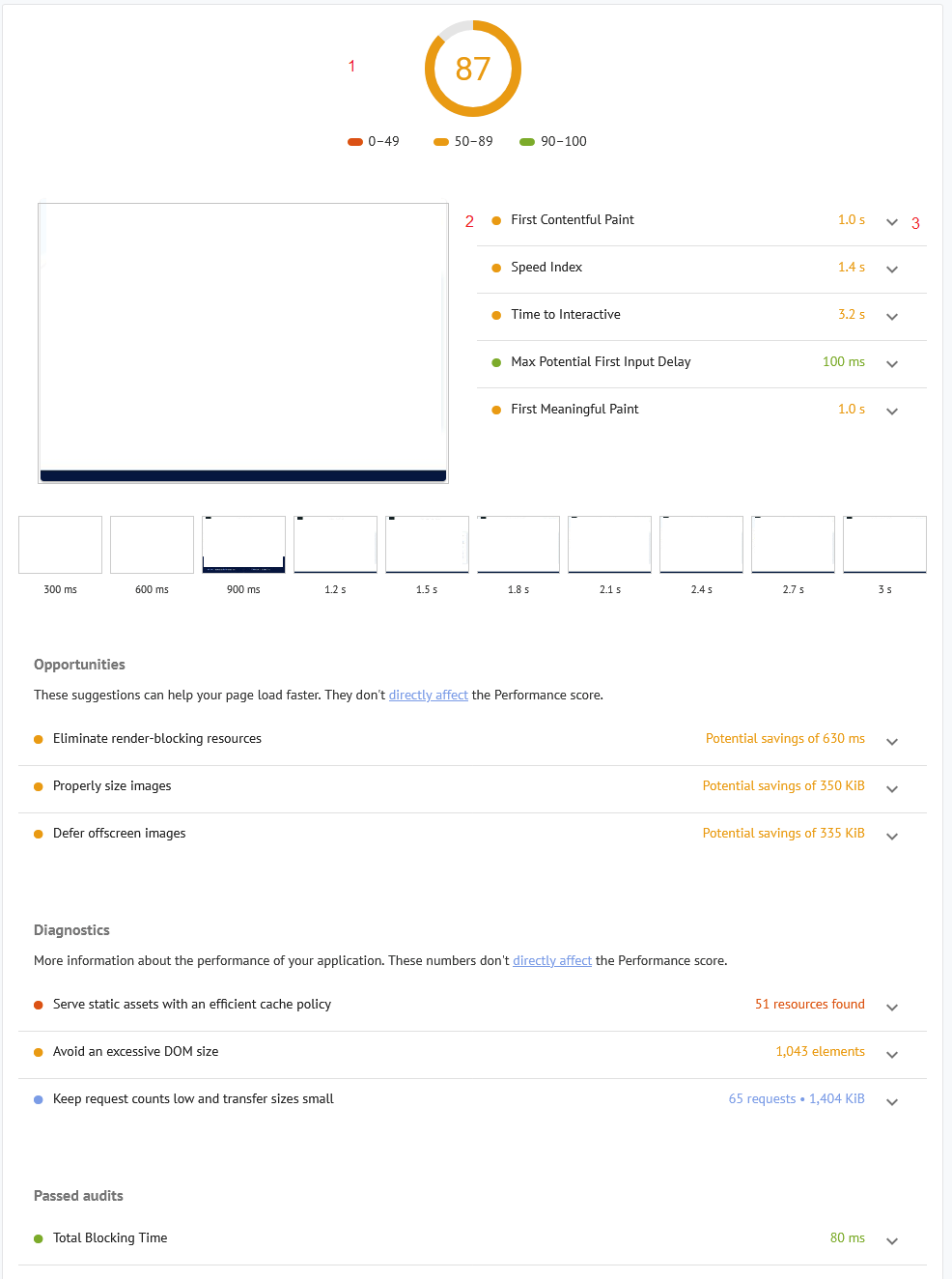 Evaluation of the page loading speed in points. If the score is far below 100 points, then the site's owner or developer must follow the necessary recommendations to improve it.
Different parameters that can be optimized or reduced.
Click-down buttons for getting more detailed recommendations on each parameter.
The information within the report is provided by Google's data. When clicking on the links in the windows you will see explanations provided by PageSpeed Insights; a tool from Google designed to assess page speed indicators.
Google's explanation of PageSpeed Insights indicates that many factors affect measuring the download speed, each to varying degrees. The estimate of the loading speed in points can be approximate and change even without any changes on the site itself.
For example, the 44/100 indicator almost immediately changed to 52/100, after an update, although no changes were made to increase it.
Therefore, it's best not to focus on numerical indicators, but rather on the existing problem itself, and the indicators on how to fix the issue.
There are also many cases showing that adapting a website to mobile devices primarily, can lead to an increase in the website's position in the search results.
How to fix the issue
Page loading speed is a key ranking factor for Google, especially since mobile-first was introduced. If a page takes five seconds to load, the probability of a bounce (e.g., a user clicking back off the page) rises by 90 percent (source: https://blog.hubspot.com/marketing/how-to-reduce-your-websites-page-speed).
If your score is below the 90-100 mark you will notice a list of opportunities (based on the analysis of your page) on how to improve a slow page speed, from highest to lowest impact. Use the down arrow on each for more information on where the issue is, and how to fix it.
These will help you to vastly improve your page speed if implemented.