Your site and TOP 10 snippets
A search snippet is a short description of the page content that the user is likely to see if they were to click on your snippet link in the SERP (search engine results page).
It contains the following elements:
Meta title and meta description (the two main pieces of information in a snippet).
Favicon – this is the websites square icon logo that will be shown in the search results next to the meta title, and can also been seen in the browser tab when the user is on your site.
The page URL (can also include the full navigational chain).
Site links to various other relevant places on the site.
Special structured data (examples include but are not limited to: address of the company, prices, delivery information, reviews etc).
Search engines create snippets by crawling the page that the user would be visiting after clicking on a link in the SERPs, and then by finding relevant bits of content to insert into the above sections of the snippet mentioned previously. You can override this process and set your own meta title, meta description, and other related snippet data by using the correct HTML markup and/or by altering your meta title and meta descriptions using relevant plugins if you use a popular CMS.
Below is an example of a Google snippet with rich data:

Why should I optimize my snippets?
Google and other popular search engines use metrics such a CTR, bounce rate (how quickly someone visits your site and leaves), and hop rate (how quickly someone visits your site, leaves your site, then clicks on another listing on Google) as behavioral metrics indicative of how well your page actually matches the users query intent.
To put it simply, you want to optimize your snippets on Google to entice users to click on your page vs competitors' pages.
Luckily for you, we make working out the best way to optimize your snippets super easy and best of all, all of our suggestions are data-led and based solely on what the top 10 snippets look like for each of your keywords currently.
Labrika's "Your snippets vs the top 10 SERP snippets" report
Using this report, you can easily compare your search snippet with the snippets of the top 10 competitors. Find out quickly how your competitors are optimizing for the highest CTR, and how to best garner the most traffic from your snippets.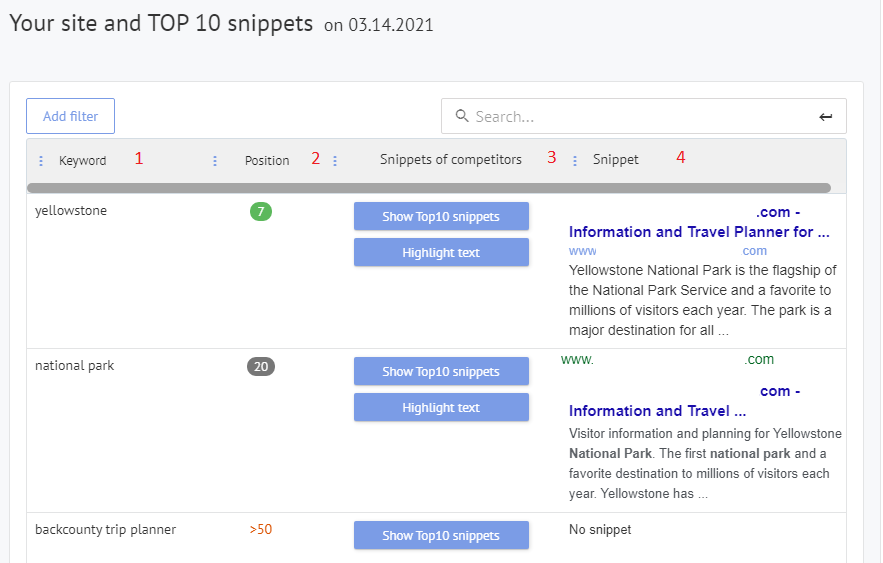 Report content:
The keyword that Labrika is comparing the top 10 snippets for.
Position of your site for this keyword currently.
Snippets of competitors pages currently ranking in the top 10 for this keyword – click "Show top 10 snippets" button to view all of these snippets.
Your current snippet for this keyword.
On the page "Show top 10 snippets" you can see: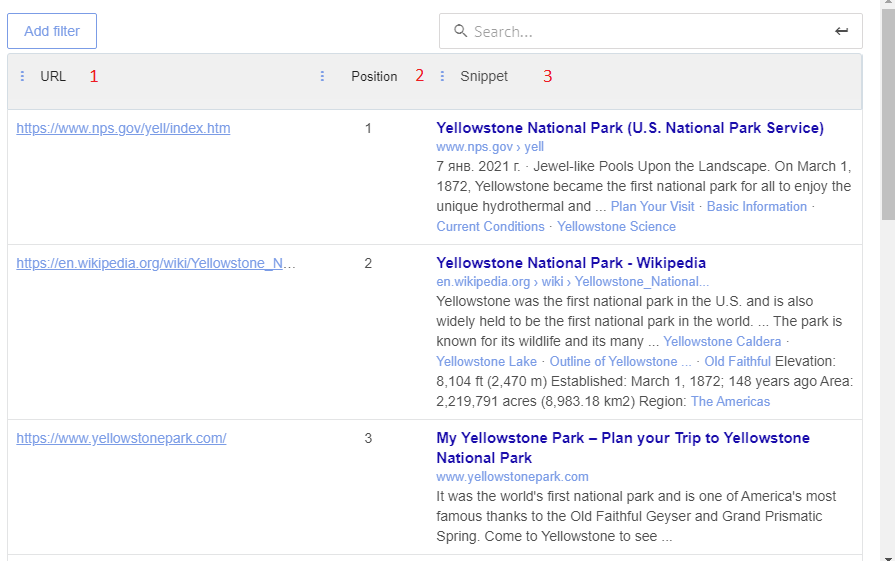 URL of your resource and of competitors' websites from the TOP-10;
position number in the search results;
your own snippet and snippets of your competitors by this key phrase.
How to make snippet more attractive?
Here you can see a list of the keywords you are ranking for, and the snippet users will see on Google.
By clicking on 'show top10 snippets' you can then compare your snippet for that keyword against your competitors in the top 10. Helping you to understand what your competitors are doing to gain those top spots, and then implement any useful changes to give your page a boost.
Your snippets should include:
Your competitive advantage, are you cheaper? offer fast delivery? have a special offer? Include this in the snippet where possible.
An interesting Favicon - this is the small image shown at the side of the snippet. An eye-catching favicon may draw the users in.
Extended snippets (where needed) using micro-marking in open graph, or scheme.org. This allows you to create larger snippets where users can go to the exact section of the site they need.