Grow Your Traffic With Labrika's All-in-One SEO Tool
Increase your search traffic using Labrika's machine learning algorithm to analyse the most important 200 ranking factors.
Why choose us?
Labrika saves 25-30% of the working time
It doesn't require qualification
Costs less than 1% of promotion costs
There are printable versions
Monitor search ranking and search factor changes
Labrika shows recommendations, importance and description
What Labrika Can Do for You
Labrika finds dozens of problems on the website which other services don't see, which helps the most hopeless websites get in the TOP10 search results. The Labrika algorithm consistently finds errors that other algorithms are simply not sophisticated enough to find - this ensures our users are always one step ahead of the competition.
close
Tools
Export your reports to XLS;
Import your key phrases, cluster analysis and landing pages url's from CSV format;
Printed version of the site audit in DOCX;
Guest access to audit;
Generate sitemap.xml with duplicate pages and pages closed from indexing;
Labrika highlights texts that are used for snippets.
For whom
Labrika shows recommendations, importance and description. Make your web-resource a top result on search engines without unnecessary labor costs and get the ready recommendations for optimization - It doesn't require qualification.
We make big data easy to understand and highly actionable in one report, on one page, using just our tool. You don't need to be an expert SEO to use our tool - we make sure it is easy to use for everyone and include an explanation of every feature via tooltips.
SEO-agencies & specialists
Labrika saves 20-30% of the working time at a price of 1% of the promotion cost. It means that you can increase your profit by 15-20% and, therefore, each of your specialists can do more tasks. The SEO specialists can receive higher bonuses for their work.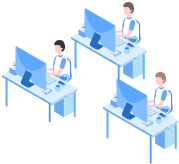 Site owners
Monitor search ranking and search factor changes. Make sure that your search engines optimizer made no serious mistakes that could hinder web promotion of the site. And if there is no money for an optimizer, follow the instructions and promote yourself.
Freelancers
Earn more money with less time. Labrika will do all the hard work. Those freelancers who already work with us note that Labrika helped them to promote more complex projects and to become more efficient in their profession. Found errors will help to sell services to new clients. Generate reports and submit on your behalf.
About us
45,000
Sites added for analysis
12,23 million
Keywords being processed
4 906
Average errors on each site
Increase your search traffic using Labrika's machine learning algorithm to analyse the most important 200 ranking factors.
labrika has got you covered
Features below are included on all plans
Industry leading features as standard
Our machine learning algorithm can check your: user metrics and commercial interactions in your analytics, if your website has been plagiarised, if adult content and swear words have been injected into content, several types of Google penalties, cloaking and affiliation links, duplicate content and Labrika can even automatically cluster your key phrases on a page.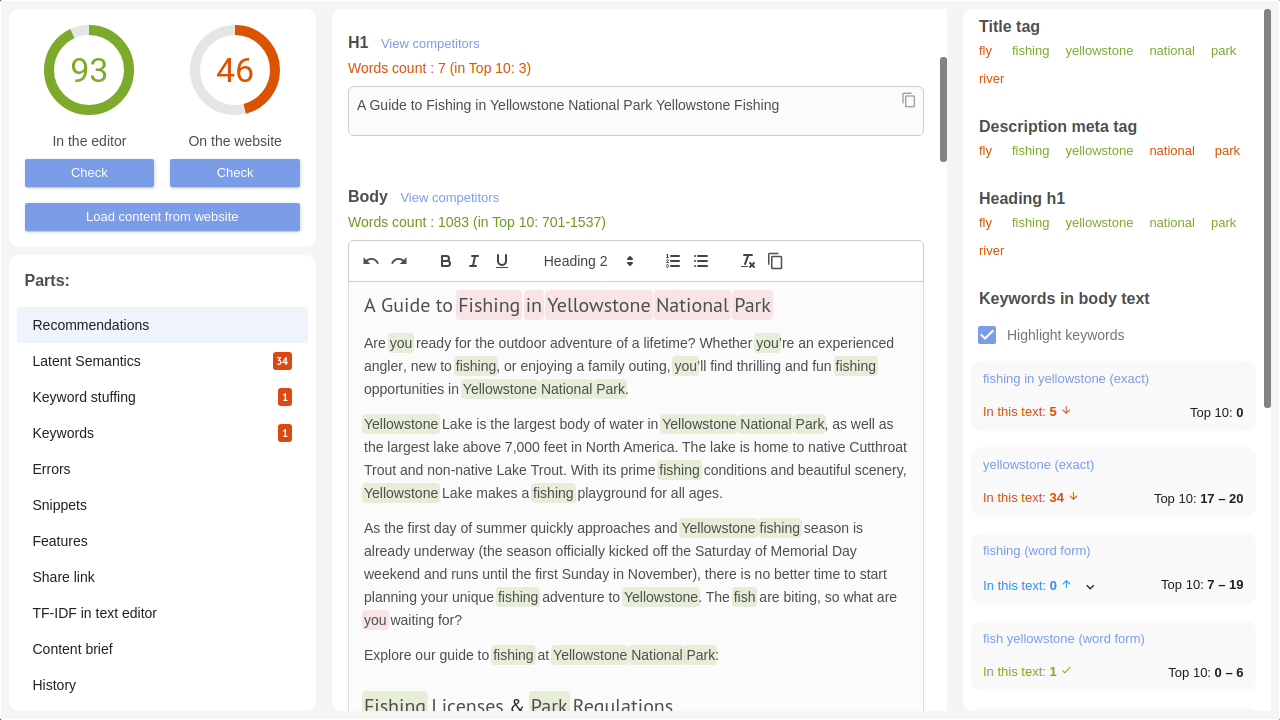 Track your SEO improvements
See a detailed history of all errors and improvements you've made to your site. We make sure to keep a detailed history of all changes you have made to improve your site so you can monitor your progress for an unlimited amount of time. All historical and current graphs are exportable in the PNG file format. If you have an SEO agency you can send these to your clients and show them their progress completely white label and without our branding.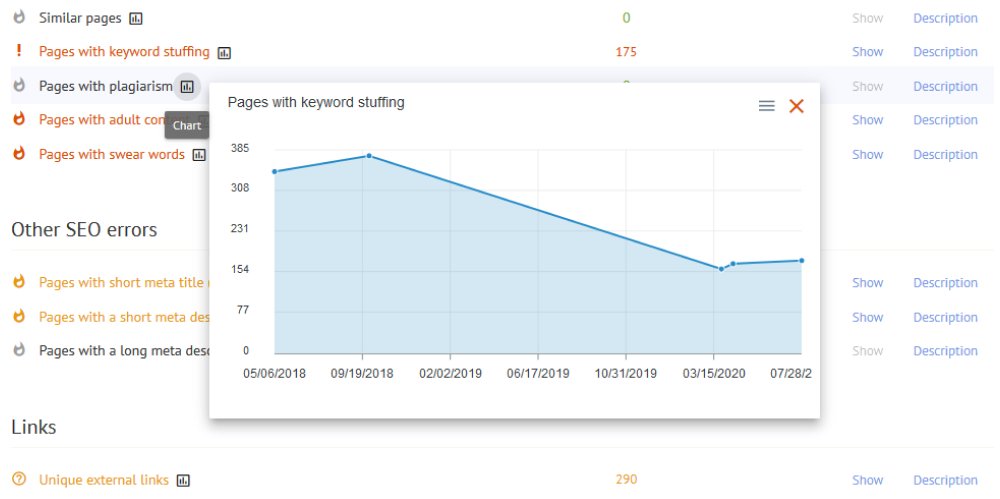 Share your project with others
We put the power in your hands to choose who works with you and who doesn't. We give you the option to collaborate via shareable links.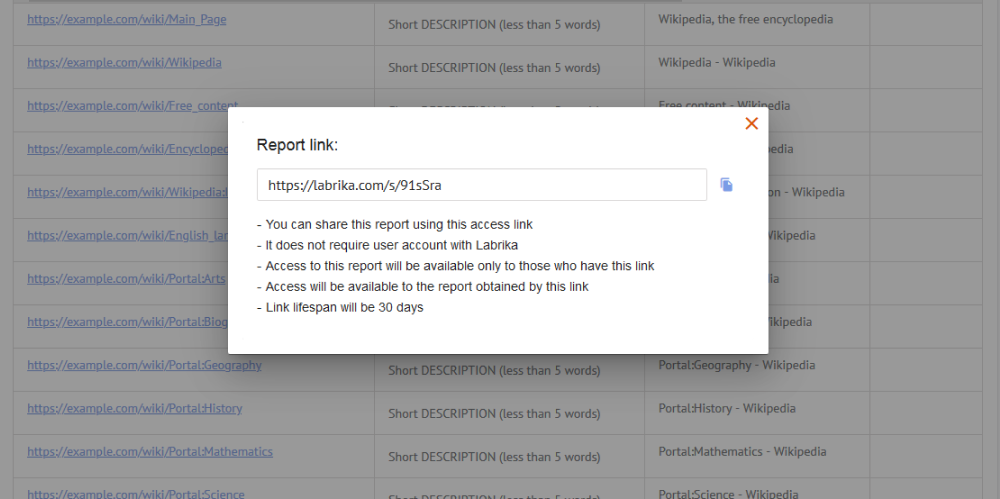 All reports are printable
All reports generated within Labrika can be saved in editable .XLSX or .DOCX formats. You can generate reports for your clients if you are an SEO agency or assign reports with tasks to complete to your employees.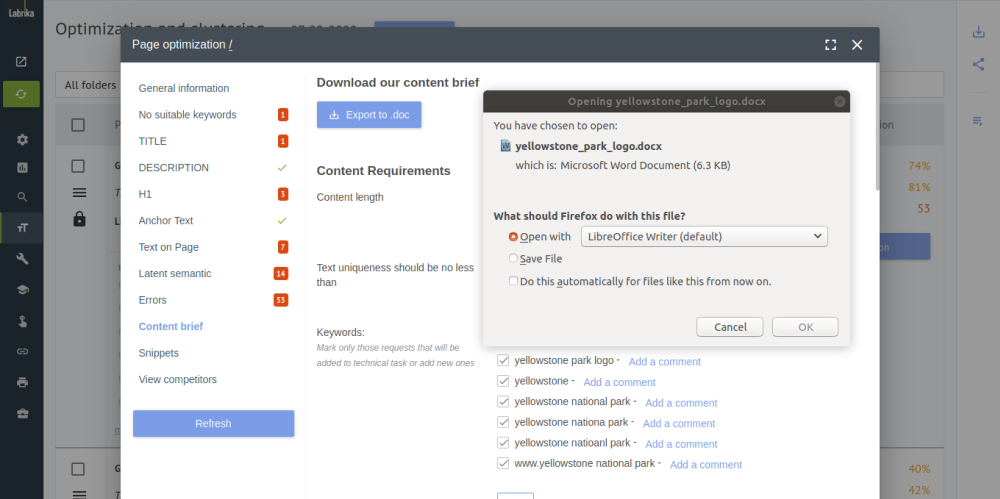 Connect Labrika with Google Analytics
You can connect your Google Analytics to Labrika with ease. All you have to do is authorise Labrika to have permission to view your Google Analytics account and your traffic data will show up directly in your Labrika dashboard. This means you can easily track the changes made via Labrika recommendations and how they improve your rankings.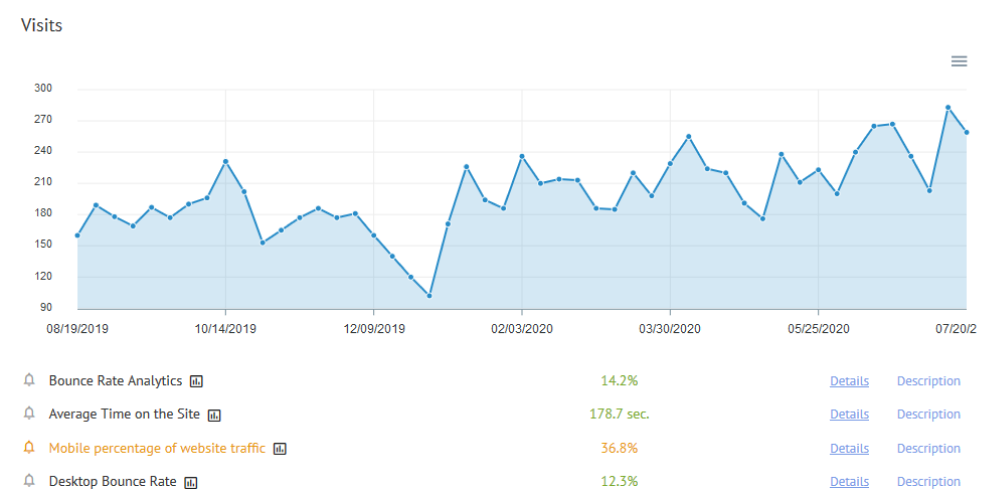 Pick a Plan that suits you best
All Labrika features included