Non-indexed landing pages
Lost landing pages are pages within your project that appear in the search results for any of your keywords that you have added to Labrika and/or are set for optimization in Labrika, but, are not found by Labrika's crawler when it crawls your site.
Reasons for lost landing pages occurring:
Said page/s have been removed from your site.
Absence of internal links pointing to them from other pages on your website.
There are internal links pointing to these pages, but they are blocked from indexing.
One or more pages that have an internal link pointing to this landing page are blocked from indexing. The crawler starts on the homepage of your website and starts following all indexable and followable links from the homepage to other pages and areas of your site. If at any point our crawler encounters nofollow links and/or noindex links on pages that link to your landing page/s, then it is likely our crawler has simply been blocked from accessing your landing page by noindexed or nofollowed links closer to the homepage.
You may have removed said page/s but the search engines are yet to update their index for your site and therefore currently, are showing a non-existent page on their search engine.
The page URL entered in the section "Optimization and KW grouping" in Labrika was entered incorrectly.
How do missing landing pages affect your site's SEO?
A landing page that is missing internal links will inevitably run into the same issues with search engine crawlers as it does with Labrika's crawler. The search engines will not be able to find said pages during normal crawling if they cannot be accessed via internal links in the website's hierarchy. This means that a page that was ranking on search engines that now has no internal links/blocked internal links will lose its rankings when it is next crawled and will likely be de-indexed.
Another important point to consider, is that if these pages do not have internal links pointing to them then they will have a low internal page rank within your site's architecture. Search engines give greater weighting to pages that are closer to the homepage and/or that include a high number of internal links pointing to them. This is due to the natural link juice that flows from the most externally linked to page/s on your site (normally your homepage) to all pages linked to from high authority pages on your site.
If users go from a search engine to a page that no longer exists, they will not receive the information they need and will return to the search. If users click on a link pointing to your site in the SERP's that doesn't exist then the user will need to return to the SERP's instantly so that they can find a page that satisfies their query intent.
This is not good for the offending pages SERP rankings and behavioral metrics such as bounce rate, that are heavily monitored by search engines. A high bounce rate for a page indicates that this page does not satisfy SERP intent and therefore should be downgraded in its SERP rankings.

If you have a site-wide poor bounce rate this is likely to affect your entire site's rankings not just on a singular, page level.
Labrika's "Lost Landing Pages" report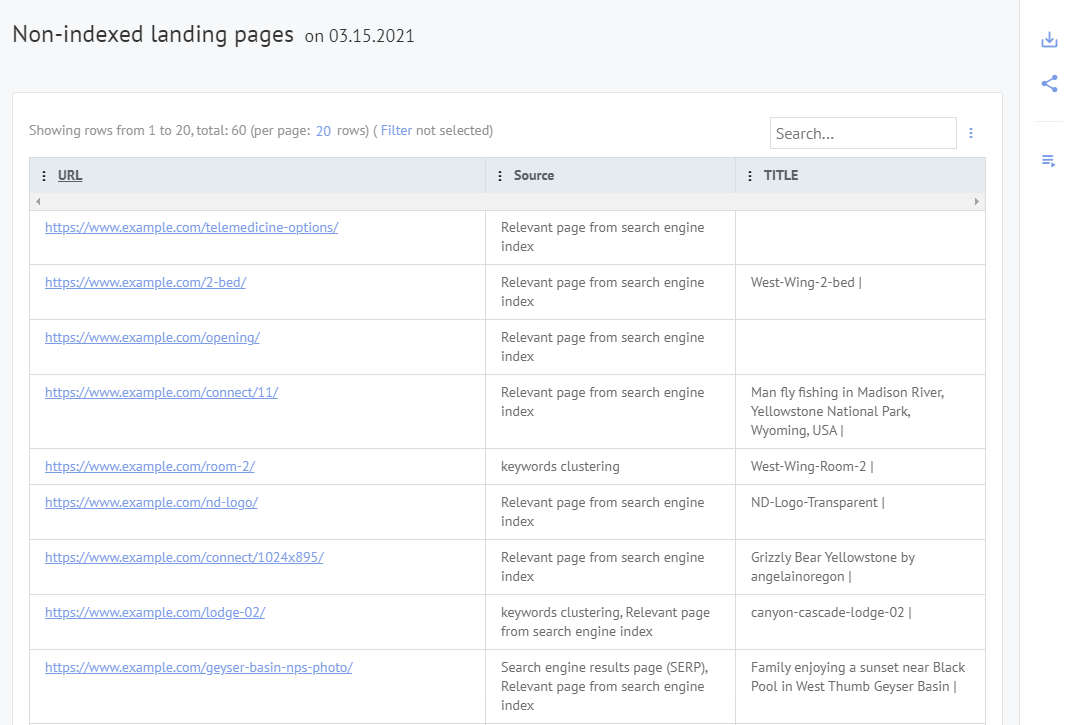 List oflanding pages that were not found when Labrika crawled your site but were found in the search results for any of your keywords that you have added to Labrika and/or are set for optimization in Labrika.
Sources where lost landing pages have been found.
Meta titles of the lost landing pages.
How to make any lost landing pages listed in the report findable by our crawler/search engines?
How you make lost landing pages findable by our crawler/search engines depends solely on the reason why we couldn't find it in the first place:
If there are no internal links pointing to it on your website then it is necessary to point links to it from pages as close to the homepage as possible.
If the "lost" landing page was replaced by a new page then set up a permanent 301 redirect that redirects the user/crawler from the old "lost" page to the new landing page.
If the reasoning for the lost landing page reported in column 1 is due to it being incorrectly entered during the keyword grouping stage, then rectifying the lost landing page status is as simple as correcting the landing page URL within Labrika.