Lost files
What are the lost files?
Lost files are images used on the site, but for some reason, unavailable for viewing, i.e., JavaScript and CSS files that give a "404" response code.
How do they affect the position of the site?
Lost images and CSS files (site styles), which are used to set the rules for the layout and design of web pages, spoil the visual component of the web resource. Its elements may be displayed incorrectly or be absent altogether.
As a result, the site looks unusable, the number of user returns to search increases dramatically, creating a negative signal to the search engine. A large number of lost files and a significant churn of visitors will lower the site's position.
JS files contain scripts and are responsible for the functioning of the site. Their absence can disrupt, for example, the sending of orders, the operation of the basket, or the menu.
How to find lost files on the website.
You can find the corresponding report in the left menu, in the section "Technical audit > Lost files".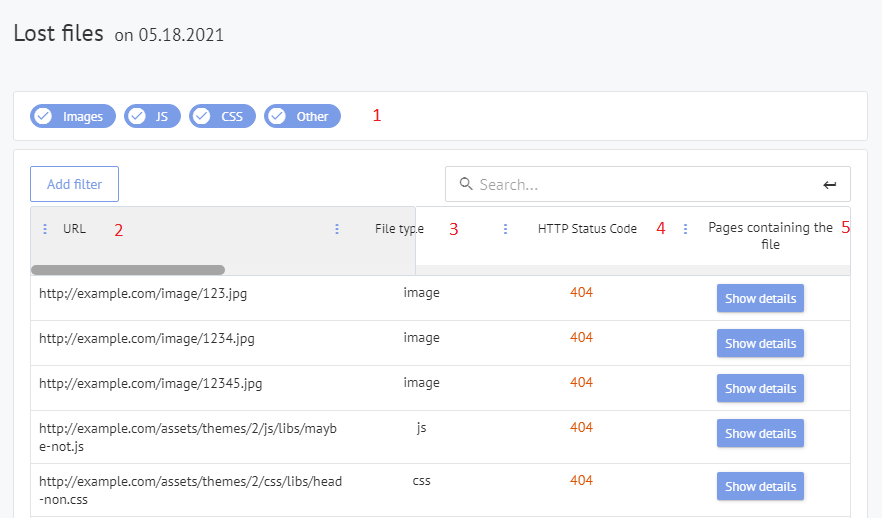 Content of the report:
Buttons for filtering data by types of lost files. Check the box next to the required type, and the table will display data only for these files.
URL of the lost file.
File type: JavaScript, CSS, or image.
Server response code: As a rule, this is a "404" code, which means the file was not found.
List of pages where Labrika found the link to this lost file.
How to fix the issue
Lost images, CSS, or JS files can greatly affect both the look and usability of a site.
Our lost file report shows you the error code (such as a 404) that the page returns, the file type that is missing, and the page URL.
Once you have identified a lost file you must fix it.
If the file is usable, but the URL is incorrect, simply correct the URL.
If the file has somehow been deleted you may need to re-add the file completely.