Essential landing page elements
The most successful e-commerce sites include numerous functions and elements essential to ensuring the user trusts their sites, and most importantly, can purchase products with as little friction as possible.
Labrika's Essential Landing Page Element tool outlines what features and elements are present on your competitors' sites ranking in the top 10 (for keywords you also wish to rank for ), so that you know what your site needs to include if you want to rank well for said keywords.
Why is knowing what essential landing page elements are expected to be seen on your site's pages important?
The top 10 search results for each keyword always possess the strongest competition and as such you are always looking for that competitive advantage that helps Google view your site's page as the most relevant to query intent.
Below are some of the things that essential landing page elements affect:
For YMYL pages, certain elements are expected to be found on your page for it to possess high YMYL trust.
User metrics, specifically bounce rate and on-page time. If a user expects to see certain features on your page for their query and it doesn't feature such, then this is likely to negatively affect your user metrics which are very important in Google's eyes for top 10 ranking pages.
Conversion rates – lack of certain features and correct cart elements can severely affect conversion rates and ultimately, your bottom line.
As you've probably gathered, our report is very useful for giving you crucial insights into both what features Google expects to see on your page, and what your users expect to see also. Our breakdown of all the different features is also extremely useful when you are trying to find out the cost of the needed work to be completed in order to add essential elements to your landing pages - all you have to do is pass our report to your developers and they can give you a quote for the needed work.
Labrika's "Essential landing page elements" report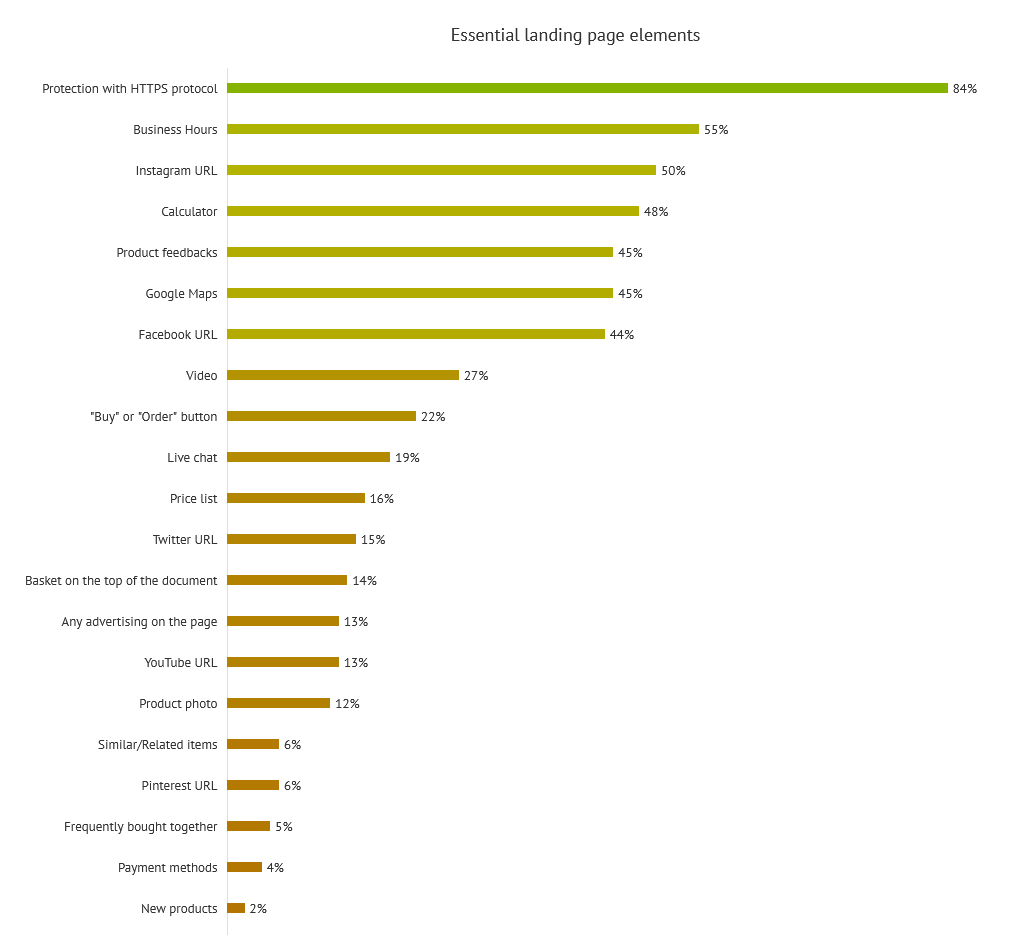 Essential landing page elements findable by Labrika
Below is a list of the landing page features and elements Labrika can currently scrape (this list is always expanding):
"Buy" or "Order" button
Basket at the top of the page
Price on page
Price list
Business Hours
Presence of Ads on the page
Calculator
Compare with similar items module
Frequently bought together items module
Google Maps
In stock label
Live chat
New products
Payment methods accepted module
Product reviews
Product photos
SSL
Shipping details and information module
Similar/related item module
Video content found on page
Youtube URL
Pinterest URL
Instagram URL
Linkedin URL
Facebook URL
Twitter URL
How to best utilize our report
Labrika analyzes your competitors' sites for the presence of essential functions and elements then relays back to you which sites in the top 10 contain said essential functions and elements. Since the requirements of certain functions and elements differ per query intent type we allow you to filter by query, region, and topic. Our system also allows you to generate essential landing page element reports for each search engine and region – this can be accessed in the left-hand side menu in your dashboard.
This report can be used by your SEO team to help make sure that if the majority of top ranking competitors include a certain function on their page, that you do to when optimizing a page.
Labrika also provides a detailed report with the results of the analysis of the functionality and elements of sites in the TOP10 for each of your keywords: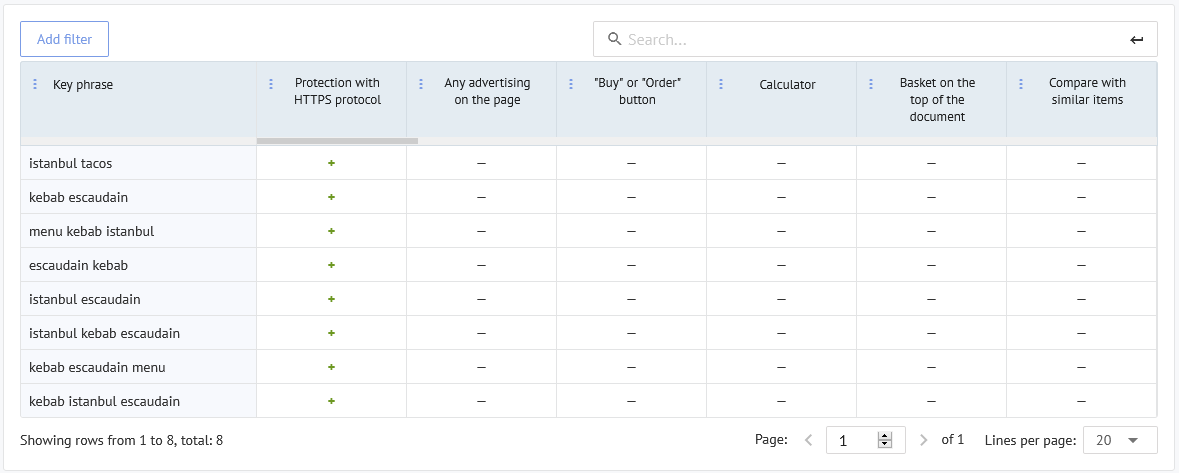 Many SEOs use this report as one of their key metrics to assess the difficulty of keywords.
How to select and add Essential landing page elements to landing pages
Without the essential elements, a user will not be able to properly interact with your landing page, leading to a loss of traffic and a high bounce rate.
To determine which elements are essential to your landing page, you can use the competitor analysis, which will look at your top 10 competitors and analyze what elements they are using on their pages as a percentage.
Once you have done this, you can then look at your essential landing page element report. Cross compare what you are using on your page, and what your competitors are using. Any gaps? You know these are the elements you need to add to your pages. Remember, you won't need to add every element to every page. That's why you can filter the pages by query, topic, or region. For example, an informational page won't need a 'buy' button, but a commercial page would!
You can then start implementing these changes on your site, to make you more competitive with the top 10.