Thin content can damage your site's reputation in the eyes of search engines and visitors. Yet, the problem may only become apparent once your site has been slapped with a manual penalty and warning. For this reason, it's always best to strike first and identify issues quickly, this is where Labrika can help thanks to our SEO audit. Our SEO audit offers you a list of thin content pages on your site.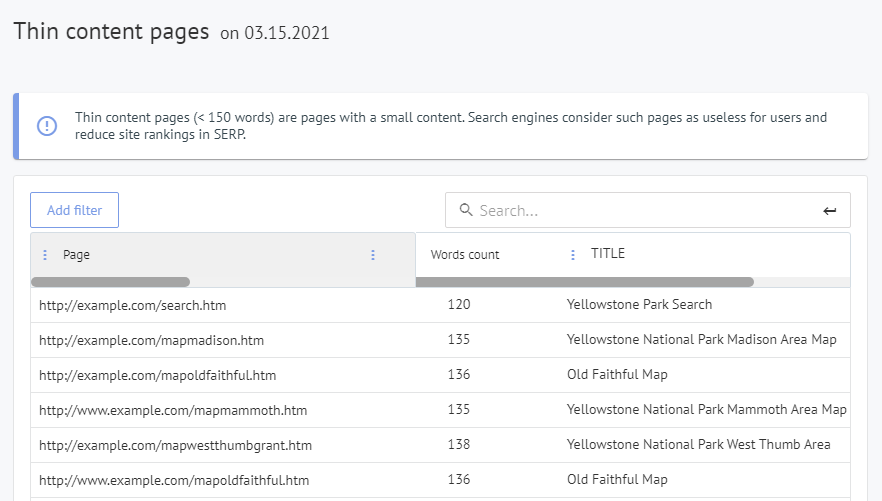 What are thin content pages and how to fix them?
Thin content is typically easy to identify as it has none of the information a user seeks:
No relevant information and authoritative sources.
No content that satisfies the user's search query.
No apparent knowledge of, or expertise in, the subject matter.
No actionable material or relevant and helpful links.
Basically, thin content delivers zero value to the users of a site. The user, therefore, has no choice but to click off the page and search again for the information. This leads to a high bounce rate on the page and a negative user experience.
Why thin content is damaging to your website?
Thin content can have a negative effect on your ranking in the search engines, and your brand's image. Users will be unlikely to click on any call to action or to navigate to other parts of your site. They may also bounce off the page, which Google views as a negative indicator.
In the last 10 years, Google has taken a lot of action to improve its algorithm and prioritize high user satisfaction.
Their system has now developed into a highly intelligent 'rubbish content detector'. It's best to avoid having your site considered 'low value' as it will not appear at the top of the SERPs. Or, even worse, you may receive a manual action from Google. If you receive this warning your site will not appear in the search engines at all until the issue is fixed.
9 common sources of thin content pages
Thin content is an on-page SEO issue that is frequently triggered by:
Doorway pages
Affiliate pages
Scraped content
Duplicate content
Category pages
Automatically generated pages
Poor quality copywriting
Pages with not enough text 9
Keyword-stuffed pages
Google does recognize that certain pages are expected to have thin content, such as:
Contact Us pages
Login pages
Short content is not necessarily thin content
We are very clear not to mention a minimum word count. This is because genuine value can sometimes be delivered in a few hundred words and doesn't always require 2000 plus words.
There is no one size fits all, and that is why we say that you normally know thin content when you see it.
Google's algorithm has become highly intelligent since the Panda update in 2011, which focused on poor-quality pages. New releases, such as BERT, are very skilled at identifying poor content and recognizing valid, well-written copy.
How to fix thin content SEO problems?
The solution is simple: add value! Google wants to present users with pages that fulfil their query intent. This is why they have been the number one search engine for so long. This means you must either remove/hide (noindex) offending pages or rewrite them so that they add value to the user. Although a challenge for a site with thousands of pages, it is vital to maintain or increase your position in the SERPs.
How Labrika can help you to identify thin content pages
A data-driven approach is useful for identifying thin content pages, and saving you the energy of trawling through every page. Start by performing a site audit in Labrika's dashboard. You can then extract the list of URLs with thin content and analyze key metrics so you can narrow down where to start:
How much revenue (if any) does the page generate?
Number of visitors to the page.
Duration of typical visits.
Does the user navigate to other pages on your site?
What external backlinks exist to the page?
How well the page ranks for the keywords you have assigned to it.
After this, you can then prioritize the most important pages to fix first.
How to fix the problem pages you've identified
Review and rework problem pages
That might mean rewriting them to create more valuable content. Or, adding headings and sub-headings. Generally, ensure the content matches the expectations of the keywords for the page.
Consolidate pages where possible
If several pages address the same keywords or topics, then move or amalgamate content. Typically, we move content from the lowest-performing pages to the best-performing ones.
Redirect pages to better-performing ones.
Pages that already have some minor link juice can be redirected. This may be a better solution in some cases, especially where content is near-duplicate or cannot really be improved.
In summary, get help by using SEO professionals or data-led SEO software such as Labrika's site audit.
Larger sites may present too much of a challenge to be easily and quickly rectified. Using software to identify thin content pages can save you time and money in the long run.