Any online marketing effort should start with related keyword research.
The purpose of search engine optimization keyword research is to determine what your target audience is looking for and what it will take to rank for those terms.
How can you properly optimize your website, target terms for link building, or know what content to generate for your audience if you don't know the keyword analysis definition?
What are keywords, and why are they used?
In terms of SEO, keywords are phrases and words that searchers enter into the search engine to get the desired result. With the help of keywords, the search engines, including Google, Bing, and Yahoo, identify the topic that your content covers. You must be wondering how search engines do this. Search engine algorithms have systems for analyzing the keywords – this helps them in matching the searcher with the content that best works for them.
Besides, to make your content visible on the digital forums, all you have to do is add relevant keywords to your text. It is not that easy as it sounds; you need to conduct thorough keyword research – keep reading if you don't want to miss out on the important information.
How many words to choose and what order of work?
Simply put, there is no minimum or a maximum number of keywords that are ideal for a website; you must find keyword for every page. In other words, you have to target at least one specific keywords for each page. However, if you think keywords have variations, you must create other web pages in order to cover the variations. As a result, you will be able to provide the best possible information to the searchers.
As far as the order is concerned, focus on the keywords with high search volume and low competition. Besides, choose one primary keyword for the main page – however, it is OK to choose 3 or 5 keywords but choose one to be primary (it's necessary). Keep in mind, secondary keywords help you in shaping the content.
Alright! Now we have enough basic knowledge about keywords… let's figure out what is keyword analysis research and what keyword research tools are used to find keywords.
What is a Keyword Analysis Definition?
A keyword analysis is a process of locating and evaluating search phrases that people enter into search engines intending to utilize the information for a specific purpose, such as SEO or general marketing. Keyword ideas can reveal queries to target and their popularity, ranking difficulty, and more. Understanding your target market and how they search for your information, services, or products summarizes the keyword analysis definition.
The find search volume of keywords gives detailed search data that might assist you in answering queries such as:
Competitor search (what are they looking for)?
How many target audiences do they have and for a particular product?
In my organic keyword research list, how many terms should I include?
Well, the answer is pretty simple – it depends on the resources you have to analyze the keyword list. Not just this, it depends on the nature of keywords and industry as well in which you are planning to succeed. Before indulging yourself in this process, you would never know how many relevant keywords should be included in the list.
At times, you only need 200 words to optimize your website, and sometimes even 200,000 keywords are not enough. In simpler terms, your initial keyword research will help you determine how many keywords you need to make your website fully optimized. Most likely, a typical website will have several hundred keywords, and an online store has several keywords for each product, for example "*** price", "" *** screen size "," *** reviews " etc. Therefore, if there are 10 thousand products in an online store, there will be about 50 thousand keywords in a semantic core.
How to Find Keywords for Your SEO Campaign
I'm going to walk you through a keyword analysis research method that will help you come up with a list of terms to target.
Create a list of Topics based on your Business.
You can consider the topics you want to rank to begin this approach. You can outline 5-10 topics related to your business, and you'll use these ideas later to help you come up with specific keywords. To select these topics, you can also overview the competitor search.
Fill in the blanks with keywords for each of the topic buckets.
Once you select a few topics you want to focus on, it's time to focus on some keywords that fit into those categories. These are keyword phrases you believe are vital to rank for in SERPs (search engine results pages) since your target consumer is likely to search for them.
The goal of this phase isn't to create your ultimate keyword phrase list. The main aim is just to come up with a list of terms that you believe potential consumers could use to find content.
Understand the impact of intent on keyword research and analyze the results accordingly.
Understanding the user's intent is one of the most essential part of keyword research. By doing so, you will easily comprehend what searchers look for and their intent behind the search. On top of this, user intent analysis considers all the keywords that are being used but dives in a little deeper and determines the searcher's aim by analyzing the search semantics.
Simply put, understanding the intent of searchers helps marketers target the right keyword and search terms in the website's content. Not to mention, it is the secret ingredient to rank higher in search engines. Besides, you ca n easily opt for keywords considering their face value – but bear in mind, all the keywords have a different meaning. You must find out the searcher's intent, either it is Buy, Know, or Order.
Confused?
Let's understand this with the help of example… Imagine on Google someone searched "how to write a blog," it's pretty vague. No? A Blog can be a blog post or simply the blog for a website… you need to evaluate the intent behind the keyword, which may significantly impact the direction of your article.
Put it another way…
Maybe the searcher wants to know the tips and tricks on how to write a blog post, or probably the searcher wants to explore how to launch a site domain for blogging? Hence, it is necessary to know the intent of every keyword that is being searched.
You must be wondering about how to verify the searcher's intent… all you have to do is enter a keyword on Google and check the results that appear on the top; you will come to the informational or commrcial intent behind the targeted keyword.
5 Best keyword research tools
1. Google Search Suggestions/Trends.
You may use numerous google SEO keyword research tool to uncover SEO keywords, but one of the easiest methods is to start typing one of the themes you came up with into Google Search. Take a look at Google's auto-suggest searches before you start your keyword research: For example, if you want to search about the Keto diet, just type keto diet in google search, and you can see the result as a hint for keywords.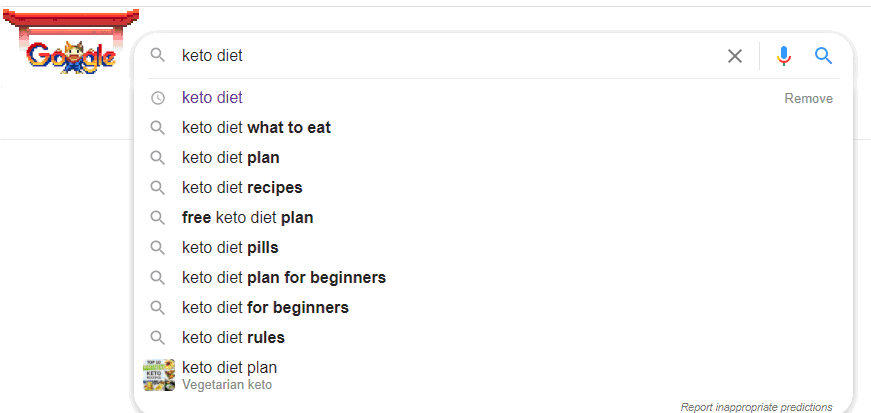 2. Google Keyword Planner
Google Keyword Planner is the most popular free SEO research tool. Simply put, it is a handy tool allowing marketers to find keywords related to their niches. With the help of this tool, you can see the monthly searches for each keyword with the cost that would occur to target them.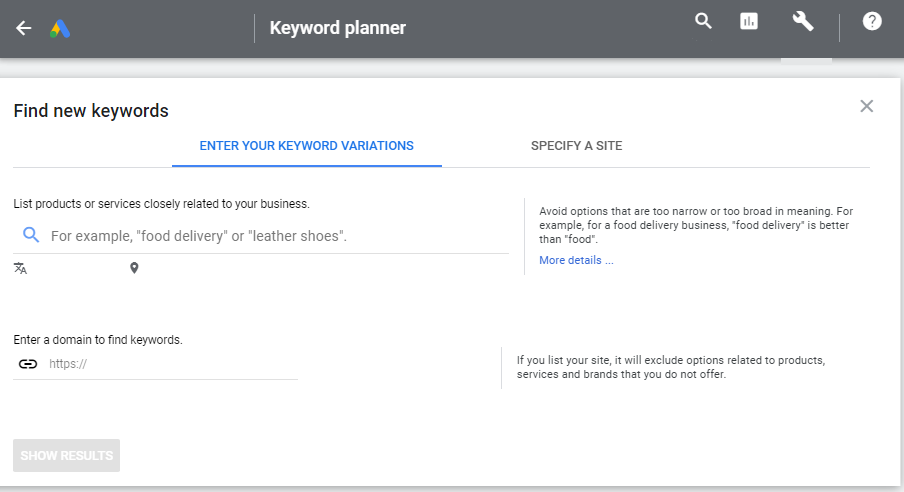 Google keyword planners gives two options to get started including:
Find Keywords: It gives you ideas to reach people that would be interested in your product or service.
Search Volume and Forecasts: you can get search volume and some other historical metrics for your keywords with prediction on how they may perform in the future.
For using the google keyword planner, you can enter the homepage URL of a competitor's website into your keyword research tool of choice. Conduct the search to obtain a long list of terms for which your competition is ranking, and save the results to a CSV file. Repeat this process for as many competitors as you'd like to investigate.
Just a little hint…
Step 1: Create a plan.
Step 2: Understand the forecast.
Step 3: Edit ad groups and location targeting.
Step 4: Create campaign.
3. Word Stream
The WordStream free SEO research tools allow you to target certain niches (groups of related keywords), receive additional ideas, and organize them into ad groups based on a common theme for quick ad group launches. You can perform 30 free searches with this tool.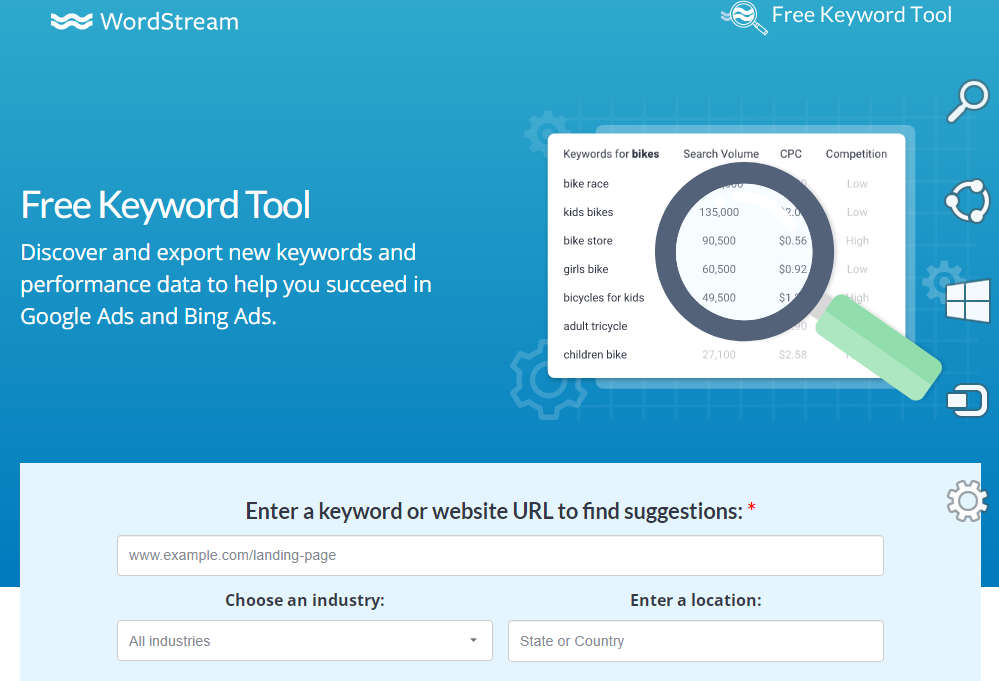 4. Soovle
If you are planning to build an eCommerce website, Soovle is the best platform to find keywords. Simply put, it helps in discovering popular keywords across several mega sites, including eBay, Amazon, YouTube, and Wikipedia. It is a keyword generator; once you type the targeted terms, it will auto-generate phrases helping you expand your ideas. Keep in mind; it is limited to an idea generation only – it doesn't include metrics like search volume or keyword difficulty.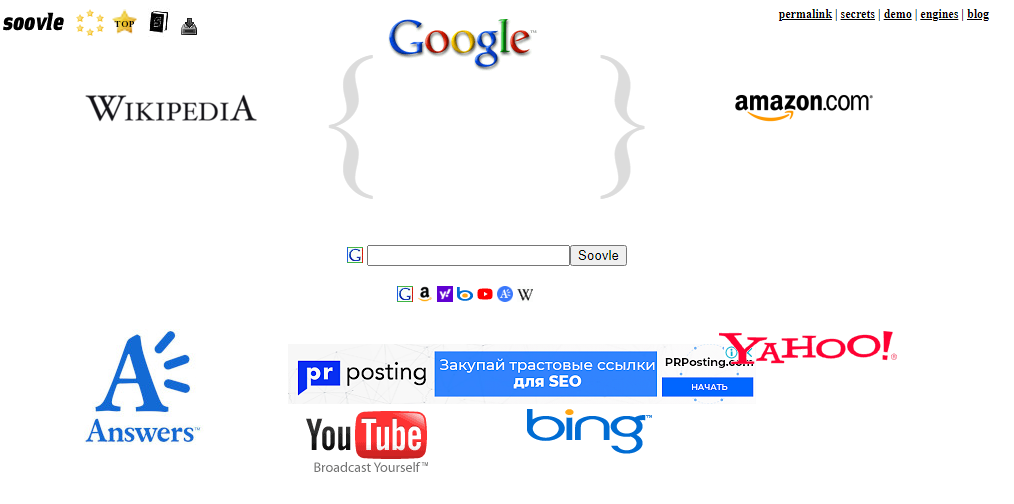 5. LABRIKA
Labrika is all in one SEO tool – it uses a machine-learning algorithm while analyzing essential ranking factors to get your website on the top of search results. To be precise, it identifies what is wrong with your site and gives you an appropriate solution to fix it. Moreover, Labrika is divided into 7 sections that answer to specific SEO needs, including site ranking, SEO audit and crawl, optimization and keyword grouping, user behaviour data, technical site audit, links, and competitor analysis.
Besides, its interactive content optimizer provides you with content recommendations after analyzing competitors in your niche. Not just this, Labrika offers detailed reporting for your entire website while finding the relevant keywords that help in ranking higher. With Labrika you can check your website ranking either automatically or manually.
To automatically pick up queries for a site on Labrika.com, you need to go to the "Keywords" tab when adding a new project to the system. On the page that opens, you need to click on the "Get keyword suggestions" button. Labrika will present you with a list of requests for promotion, and you can choose from them or add every query to your project.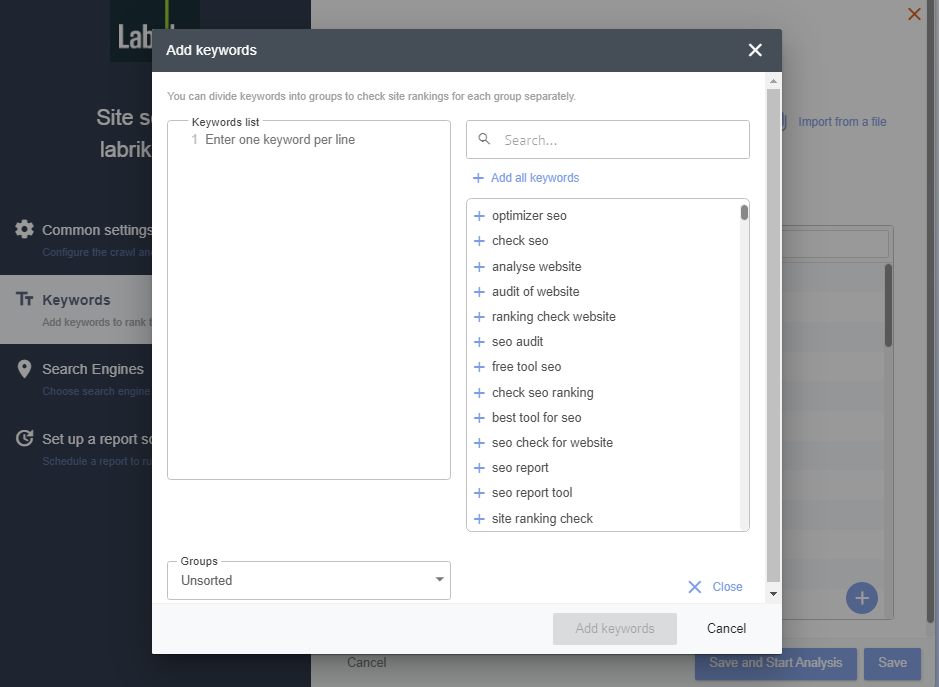 How to Choose Keywords after search and their impact
If you completed all of these activities, you are likely to have a large amount of data—far more possible keywords than you will be able to target in your lifetime. You don't have to target each and every keyword. All you have to do now is sift through the data, identify the best keywords to target, and add them to your main keyword list.
Here are some pointers on how to choose the best keywords:
Low-volume keywords should not be overlooked.
It's tempting to limit yourself to terms with high monthly search volumes, but they will be extremely competitive and challenging to rank for. Lower-volume keywords, in particular, can eventually drive traffic to blog content.
When you come across two or more keywords that are quite similar, choose one.
Similar keywords like "keyword research SEO" and "keyword research for SEO" are likely to return results. Simply choose one and add it to your to-do list. Check if the search results for two extremely similar keywords will be identical.
Before opting for any keyword, make a list of competitors from your niche. Visit their website and check which keywords they've targeted. Don't forget to read the content; it will help you understand the tone and style you should use - it will broaden you list of ideas as well.
Understand the long-tail keyword.
The combination of three or more words is known as long-tail keywords. Such keywords boost lower search volumes while attracting more relevant traffic to your website. Since long-tail keywords are less competitive, they rank quickly on all the search engines.
After selecting the keywords, don't forget to monitor their performance. You may find trending keywords with new keywords while analyzing them. Most importantly, utilize the keywords wherever you think is possible. The more you use keywords in your content, the easier it will become for you to target the audience.
Finally
In the end, you need to consider how to use google keyword research planner. For your homepage and landing pages, several keywords may be useful. Some may be more appropriate for your blog. Some of them might be ideal for a FAQ page or a knowledge base for your customers. Consider where each keyword fits into your overall content strategy.