Any work to promote a website on the Internet should begin with analyzing keywords and forming a semantic core. With the help of such research, you will determine what your target audience is looking for and how they formulate their requests.
What are keywords, and why are they important?
From the point of view of SEO, keywords are those words and phrases that users enter into the search engine to get the desired result.
You may be wondering how search engines like Google identify website content that best matches the user's search request. They assess the keywords in your website to establish its theme and how well it satisfies what a user has requested.
Search engine algorithms include special techniques for analyzing keywords - this helps search engines find an answer for a query with the most relevant (that is, suitable) content.
Keywords are also used to display contextual advertising.
How many words do I need to include?
There is no minimum or maximum number of keywords that are perfect for any website. It depends on the keywords and the industry you plan to promote. You will not be able to predict in advance how many keywords should be included in the list for analysis until you immerse yourself in this process.
Sometimes only 200 keywords are needed to optimize your site, and sometimes even 200,000 will not be enough. Simply put, your initial research will help determine how many keywords will be required to optimize your site entirely. Most likely, on a typical website, the semantic core will consist of several hundred keywords, and an online store will require several keywords for each product. For example: "*** price," "*** size," "*** reviews," etc. If there are 10,000 products in an online store, there will be about 50,000 keywords in the semantic core.
Choose one main keyword for each page. When optimizing, you will focus primarily on this phrase. You can add 3 to 5 additional keywords to the page to help you shape its content. You can choose more keywords for the main page because it is more significant for search engines.
Sometimes the site may not have a suitable page for essential keywords - then you should create such pages to cover all the necessary queries.
Step 1. Collect keywords
The purpose of this stage is not to create a final list of keywords. The main goal is to list phrases that potential consumers might use to search for your content.
How do I find keywords for a website?
Make a list of topics for keywords based on your type of business. For example, if you promote an online store, use the names of products and product groups. Try to cover the company's full range of services or products as fully as possible.
Browse the sections and pages on competitors' websites and find the search queries that they are configured for. Select only those queries that relate to the subject of your own site.
Fill in the gaps in the keywords for each of the thematic groups. Select general keywords that indicate the name of the topic, and specify them with additional words - for example: "product name + buy," "product name + price," "product name + city," etc.
To form a list of keywords, you can use special tools.
5 Best keyword research tools
1. Suggestions in Google and Yandex search (search suggestions)
To find keywords for promotion, you can use the keyword research tools of search engines. See what options the search engine automatically offers for each search term. One of the easiest ways is to start typing the name of one of the topics you have chosen to promote in the search bar. For example, if you want to promote the topic "keto diet," type "keto diet" into the search, and you will get the result in the form of keyword hints on this topic.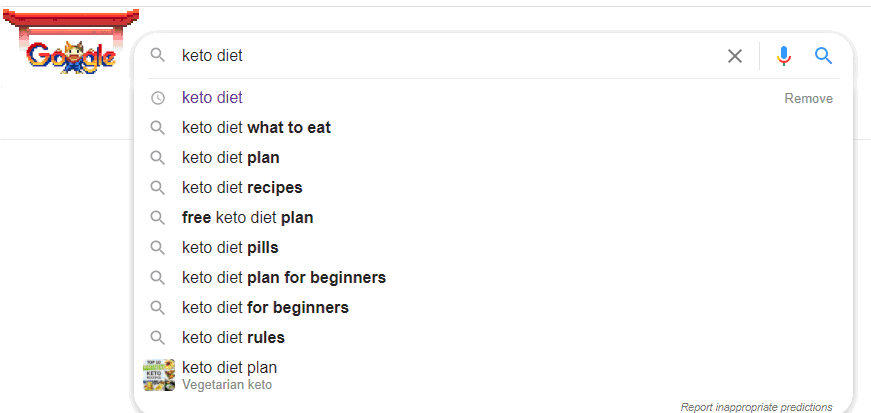 2. Google Keyword Planner
Google Keyword Planner is the most popular free tool for selecting and analyzing semantics. Simply put, it is a convenient tool that allows marketers to find keywords related to their niches. With it, you can see the frequency (search volume) of queries with an indication of the costs that would be required to target them (that is, to serve the target audience) in online advertising.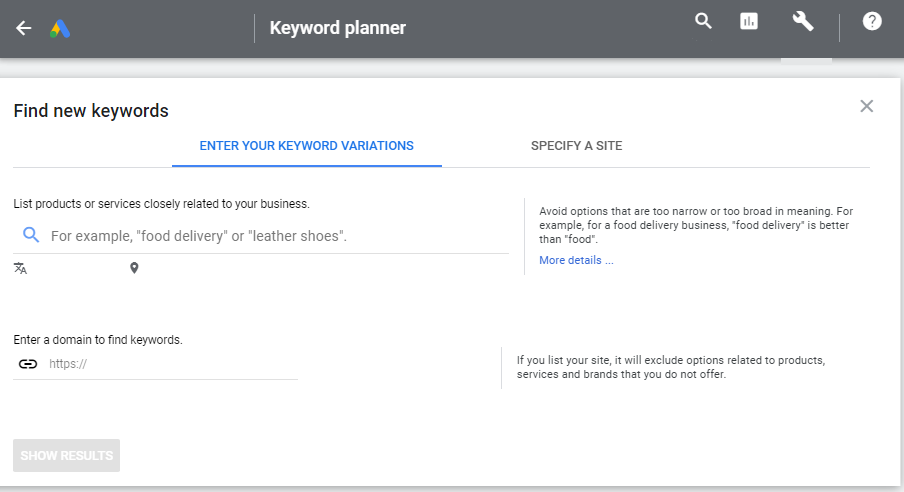 Google Keyword Planner offers two work options:
Find new keywords that will help attract an audience interested in your product or service.
Find out the frequency and some other statistical indicators of your keywords for previous periods and get a forecast of the budget and results of the advertising campaign for these words.
To use the Google Keyword Planner, you can enter the URL of the main page of a competitor's website. Perform a search to get a list of queries for which this site is ranked, and save the results to a CSV file. Repeat this process with all the competitors you want to investigate.
3. Word Stream
The WordStream keyword analysis tool allows you to search for specific clusters (groups of related keywords). It makes it possible to find additional phrases and combine them into groups based on a common topic. You can perform 30 free searches.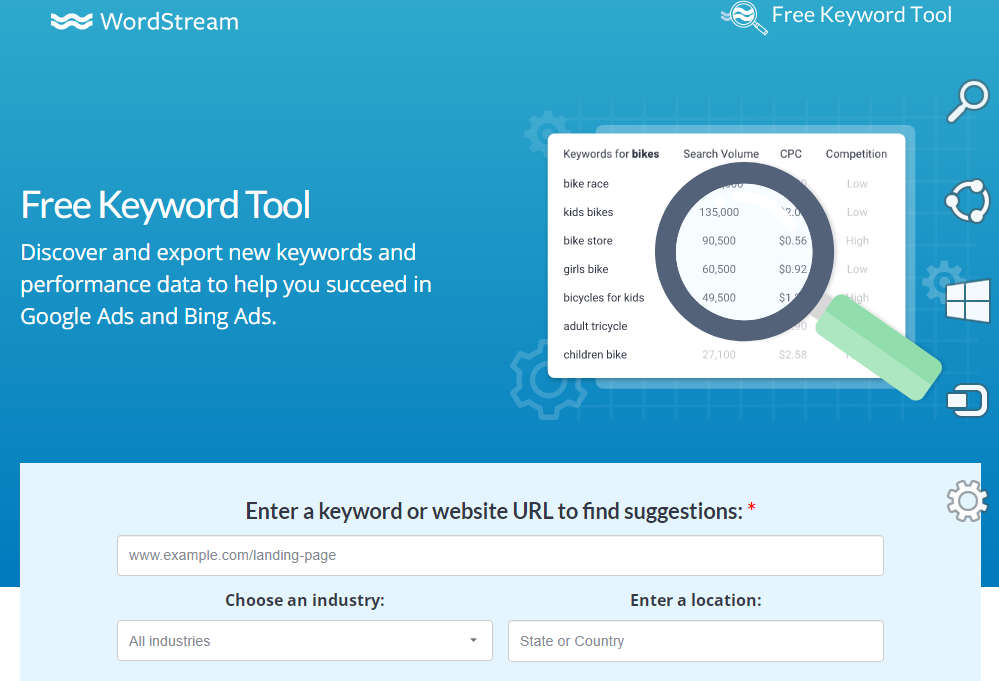 4. Soovle
If you plan to promote a commercial website, the best platform for keyword search will be Soovle. The service allows you to find popular keywords on several significant sites, including eBay, Amazon, YouTube, and Wikipedia. This is a keyword generator, and as soon as you enter targeted queries, it will automatically generate phrases that will help you expand your semantic core. It is important to remember that this service is limited only to generating keywords and does not determine such indicators as the frequency or complexity of keywords.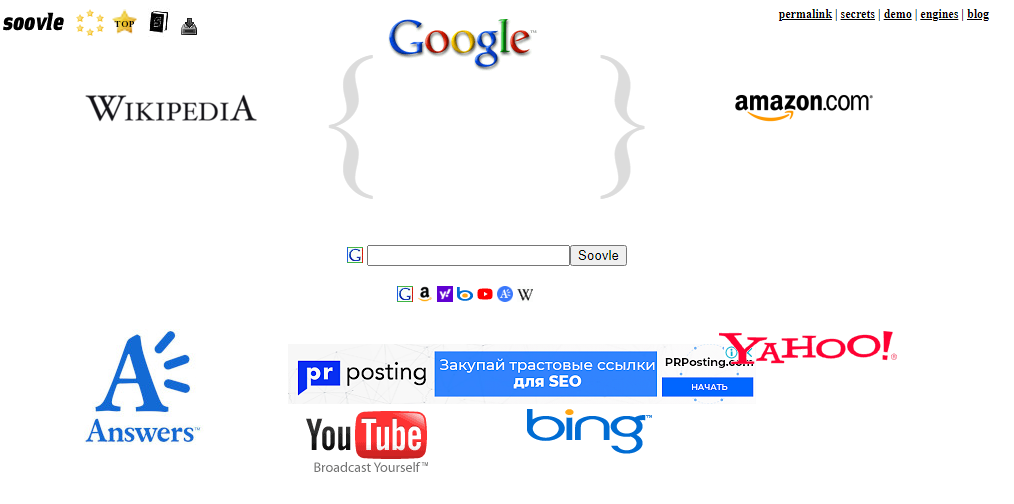 5. LABRIKA
Labrika is a comprehensive website promotion service that includes all the tools necessary for SEO.
To automatically select queries for your site on the Labrika service, follow these steps:
Register on the service's main page by specifying your e-mail in the registration window.
On the "Adding a project" page that opens, specify the site address in the "General Settings" section.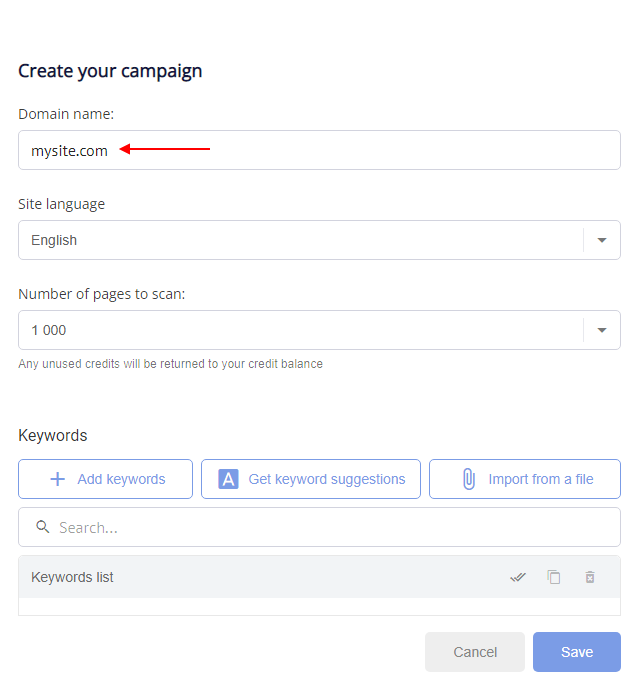 Go to the "Keywords" section and click on the «Get keyword suggestion» button. Labrika will provide you with a list of search requests to be considered for promotion. You can select the ones you need by clicking on the "+" icon next to them. Or add all the suggested phrases at once by clicking the "Add all keywords" button.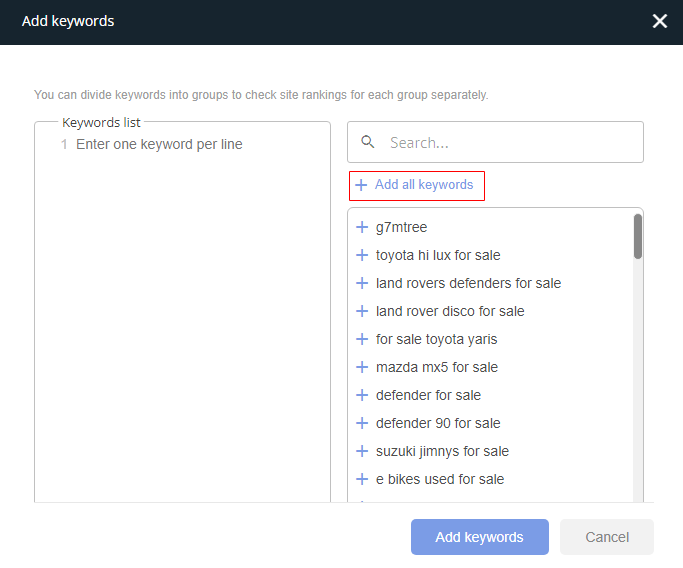 You can also enter and use keywords collected in other ways for analysis. To do this, in the "Keywords" section, click the "Add keywords" button and make a list of them in the window that opens. To save the added phrases, click the "Add queries" button at the bottom of the window.
Then, in the "Search engines" section, you need to select a search engine and a region for analysis.
After saving the settings, you can immediately run a complete site analysis.
You can view the keyword analysis results in the "Keyword Table" section. It will show the main characteristics of the keywords selected and added in the settings.
Step 2. Keyword analysis and formation of the final list
If you have completed all the steps described above, you probably have too big a list of keywords, significantly exceeding the optimization possibilities. Therefore, now you need to analyze the collected phrases, identify those most suitable for promotion, and include these phrases in your main list of keywords.
What is keyword analysis?
Keyword analysis is a process of searching and evaluating phrases that people enter into search engines. The information obtained is used to promote the site in search engines and display contextual advertising. Keyword research will help you find the search terms that will boost your site, determine their popularity, the complexity of promotion, and much more. Another valuable result of keyword research is that you will better understand your target audience and how these users search for information, services, or products.
Keyword analysis includes the study of parameters such as frequency, competitiveness, and query intent.
Studying the frequency and competitiveness of keywords
Frequency is the number of monthly requests for a specific phrase in the search engine.
Studying the frequency of keywords will help you answer questions such as:
What words and phrases are your competitors looking for?
What is the size of the target audience for a particular product?
Depending on the frequency, keywords are divided into:
High-frequency - usually over 1,000 requests per month, sometimes over 5,000 or 10,000 (in popular topics).
Average frequency - from 100 to 1,000 requests per month, sometimes up to 5,000.
Low-frequency - up to 100 requests per month, sometimes up to 1,000.
Frequency is taken into account when choosing keywords for the semantic core.
High-frequency phrases bring more visits, but they get few visitors to purchase specific goods and services since they broadly describe the search need.
Low-frequency phrases relate to narrow topics and describe some specific needs. They bring in fewer visits, but it's more targeted traffic.
For high-frequency queries, it is more challenging to get to the TOP because of the enormous competition. Many resources strive to get to the first pages of search results for popular queries to attract the maximum number of visitors.